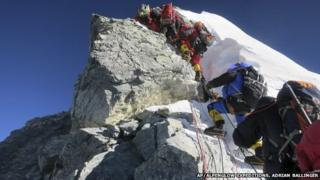 AP/Alpenglow Expeditions, Adrian Ballinger
Hundreds of climbers every year attempt to reach the summit of Mount Everest, the world's highest mountain.
It is a dangerous mission so most climbers rely on help from mountain guides, known as Sherpas. Read our guide to who they are and what they do.
What is a 'Sherpa'?
The word 'Sherpa' is commonly used to describe someone who is a mountain guide or porter working in the Everest area.
But Sherpa is actually the name of an ethnic group of people who live in the mountains of Nepal, central Asia.
What does a Sherpa do?
Sherpas are local people who are highly skilled and experienced climbers.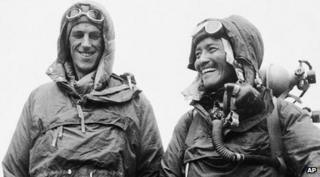 AP
They are paid to do things such as prepare the route for foreign climbers to follow, fix ropes in place, and carry the necessary climbing kit up the mountain.
How do you climb Mount Everest?
Climbing Everest is tough and being a Sherpa is a really risky job.
In April 2014, an avalanche killed 16 Sherpas on Mount Everest in the mountain's worst ever accident.
Why are Sherpas important?
Without Sherpas, most climbers would not be able to get up the mountain.
British mountaineer Kenton Cool, who's climbed Everest 11 times, explains: "The Sherpas are so important. For one, they're the local people, so they know the culture, they know the area, they know the people.
"But when it actually comes to climbing the mountain they have this phenomenal energy and power on the mountain.
"So pretty much any western climber that may go to Everest will use Sherpas to help get the logistics in place, all the ropes, all the tents and things like that.
"They really are the backbone of any expedition."
Sherpa pay debate
A Sherpa can earn up to £4,800 during the climbing season, which is about 10 times the average wage in Nepal.
It's not much compared to British wages, but it is a lot for Nepal as it is a very poor country.
But Nepal's government earns millions every year from climbing permits, and climbing companies can charge people up to £36,000 to climb Everest.
Some Sherpas think they should get more money for doing such a risky job.