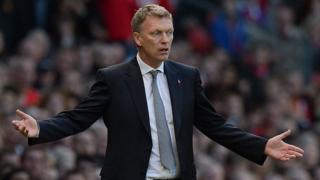 Getty Images
After just 10 months in charge, David Moyes has been sacked as the manager of Manchester United.
Was it the right decision to sack him? Should he have been given more time to turn things around?
What is next for the Red Devils? What does the future hold for United?
Will they ever be as good a they were just a season ago? Or is there more trouble ahead?
Your Comments
David was a great manager he just needed more time, it was a poor decision that he was sacked.
Ben, Blackburn, England
I think it was wrong to sack him so soon. They should have given him a chance to fill the expectations that Alex Ferguson left.
Sophie, Orpington, England
I think that Sir Alex Ferguson was the only thing keeping Man United from being quite an average side which is what they are right now. As soon as he left they went from winning the title to finishing mid-table. Moyes should have been given more time to build the team but he was given a lot of money but it hasn't made a difference.
Oscar, London, England
Although I'm not a fan of Manchester United I still think this was the right decision, David Moyes did them no good.
Nafees, Halifax, England
I think the decision was rash, because he wasn't given enough time to sort the team out and make his changes correctly.
Aaden, Leicester, England
I think he should be given more time because he had big shoes to fill.
George, Bedfordshire, England
I think it was the right decision to give him the sack as Man U have been doing really badly over the last 10 months.
Olivia, Northern Ireland
I think it was the right decision, because Manchester United haven't been playing too well this season!
Rubyloudbee, Wrexham, England
I think they should have sacked him at the end of the season because there aren't many games left.
Ben Tadworth, England
I think it was the right decision as David Moyes hasn't reached any of Manchester United's standards. Manchester United are in their worst form for years and I think that a new manager would definitely give United the edge they had with Sir Alex Ferguson.
Rayyan, Ilford, England
I support Man United and I was a bit disappointed when David Moyes was chosen to be their manager when Alex Ferguson retired. I'm not really sure that Moyes should of been sacked because it could have been the players fault.
Aibrean, Tyrone, Northern Ireland
I think that David Moyes could have been a good manager for Manchester United but the pressure and expectations proved too much for him. The majority of the players have peaked before David became manager so it was even harder for David Moyes. I think David Moyes would have been a good manager for a different club which isn't as big as Manchester United.
Saskia, Milton Keynes, England
I think Man United made the right decision but at the wrong time. Man United should have waited until the end of the season.
Bradley, Chesterfield, England
He should have been given until at least the end of the season. When Alex Ferguson was in charge they went through bad times too before things got better. Now there is too much money involved and this is what happens. Whoever comes in next will face the same problems anyway.
Jonathon, Preston, England
He didn't do that well, but they should have given him another season. I think Fergie will come back.
Ben, Scunthorpe, England