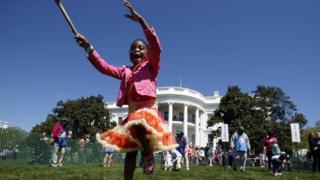 Kids in White House Easter Egg Roll
Thousands of children celebrated Easter at the White House with US President Barack Obama at his annual Egg Roll event.
Egg rolling involves racing along the lawn while pushing eggs with a spoon.
President Obama also read a story and played a bit of basketball during Monday's festivities.
Watch Ricky's report for more.
Watch more Newsround videos