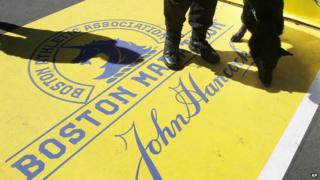 AP
Thousands of runners are taking part in the Boston Marathon a year after two bombs exploded near the finish line.
36,000 runners have signed up to take part - 9,000 more than usual - allowing those who couldn't complete the course last year the chance to finish it.
There are more police than ever at the event and people watching the race aren't allowed to bring rucksacks with them - only clear bags.
Half a million supporters have turned up to cheer on family and friends.