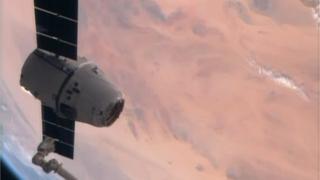 ISS gets a special Easter delivery
The crew of the International Space Station took delivery of a special Easter treat last night.
A cargo ship full of supplies docked with the Space Station on Sunday.
The unmanned Space X Dragon rocket, which blasted off from Florida on Friday contained two tonnes of food, equipment and science experiments.
Astronauts used a robot arm to capture the capsule, 260 miles above Egypt.
Watch more Newsround videos