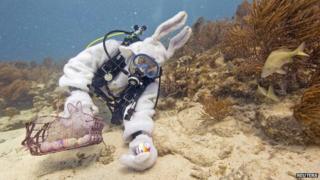 Reuters
Time to get excited - Easter weekend is here and that can only mean one thing - free time!
But before you munch into your chocolate eggs we want to know what you guys are doing to celebrate.
Have you planned an Easter egg hunt with your friends?
Or are you off on a day trip with your family?
Easter is a Christian festival which celebrates the resurrection of Jesus Christ.
You sent us your comments
I'm going to be eating loads of chocolate, spend loads of time with my family and watch CBBC! It's going to be fun...
Flora, Manchester, England
We went to church and me and my brothers got lots of chocolate Easter eggs and tomorrow we're going to visit our cousins and have a Easter Egg hunt!
Angeline, Bath, England
I am doing a fun run and a cake sale for charity with all my friends
Roisin, Dublin, Ireland
I am going to be eating lots and lots of chocolate but most of all playing in the sun.
Bethan, Nottingham, England
I'm going to have a great time watching CBBC and eating yummy chocolate!
Roxy, England
I'm going to Limerick in Ireland to see my great Aunties and Uncles.
Ruby, Bradford, England
I'm going to have a BBQ with my family because the weather is amazing!!
Niamh, Bristol, England
I am going to be going on a Easter egg hunt with my brother but I get to eat all the chocolate eggs because he doesn't like chocolate!
Anisha, Stevenange, England
I'm doing a EPIC Easter egg hunt for my brother, sister, mum and friends. But I'm keeping the big eggs just for me!
Jasmine, Tenby, Wales
Today we are baking lots of Easter goodies for Sunday and we are enjoying watching CBBC at our holiday flat down by the sea!
Anna and Harriet, Nottingham, England
I am having a Easter Egg Hunt with my sister and my mum is doing clues. We are also going to have a very nice lamb roast dinner.
Sophie, Abergavenny, Wales
Today I'm going to church for a special Easter Craft event and it's going to be great fun! Tomorrow my Mum is setting up a massive Egg Hunt for me and my best friend too, I can't wait!
Mary, Oldham, England
This chat is now closed. Thank you to everyone who sent their plans in, we enjoyed reading them.