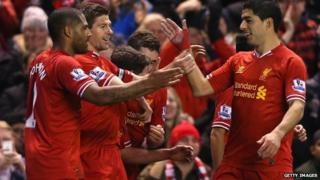 Getty Images
The Professional Football Association has announced the shortlist for its player of the year award.
This season it sees three Liverpool players going toe to toe - Steven Gerrard, Luis Suarez and Daniel Sturridge.
Along with these three are Chelsea's Eden Hazard, Manchester City's Yaya Toure and Southampton's Adam Lallana.
The winners will be announced at a ceremony in London on Sunday 27 April.
The young player award nominees include Daniel Sturridge, Eden Hazard, Liverpool's Raheem Sterling, Arsenal's Aaron Ramsey, Everton's Ross Barkley and Southampton's Luke Shaw.