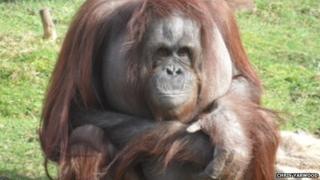 Chris Yarwood
A bunged-up orangutan called Vicky has undergone surgery on her nose in a UK first.
The 29-year-old orangutan had her sinuses operated on at Chester Zoo and is now recovering.
The vet said it was fantastic the surgery could be performed and that it went as smoothly as they hoped.
It took surgeons two hours to clear the problem that was causing her to feel sick and poorly.
And it won't be too long before she heads off to her new home at Blackpool Zoo this summer.