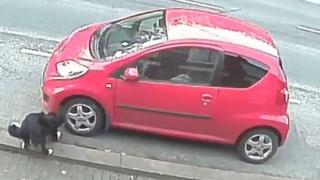 The Cumbria doggy car vandal
Police in Cumbria have solved the case of a mysterious car vandal.
After installing CCTV, they found the culprit was a dog called Jess, who they spotted chewing the tyres with her teeth.
The border collie was apparently run over by a car about eighteen months ago, which her owner says explains her behaviour.
She's promised to keep her on a lead in future so she can't cause any more damage.
Watch more Newsround videos