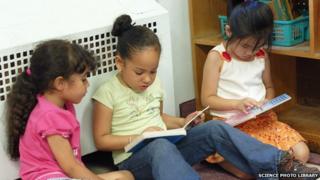 Science Photo Library
The Children's Laureate, Malorie Blackman, says books that target boys and girls separately are wrong because they exclude half the population.
She says targeting certain books at children, by putting things that appeal more to boys or girls on the cover, is a mistake.
She also says with strong competition from computer games, more needs to be done to keep boys reading.
Figures from the National Literacy Trust show that 35 percent of girls, aged 8-16, read outside of school everyday, whereas 26 percent of boys said they did.