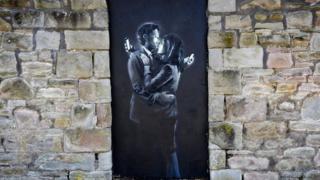 The mystery of new Banksy art
A new piece of art made by Banksy has caused a stir after being found on a wall in Bristol.
But the new picture called Mobile Lovers was later removed by youth worker, Dennis Stinchcombe.
He said because the art was put on a removable surface, it was a sign that the art should be taken and used for a good cause.
The picture was put on display in the club where they asked for donations to view it.