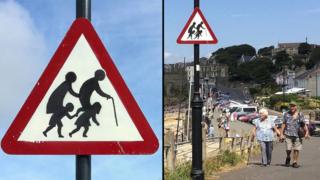 Instagram/@banksy
A road sign that was apparently created by the famous street artist Banksy has vanished.
A sign appeared on a lamppost in north Somerset showing an elderly couple being carried by two children.
It was posted on Banksy's social media, which led people to believe it was one of his works.
But just before the weekend, the sign had been removed. BBC News has contacted Banksy's team to try to find out what has happened.
Head to our guide about Banksy to find out more about the famous grafitti artist.