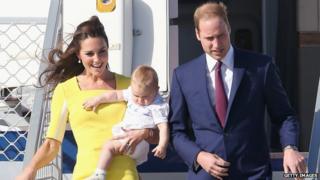 Getty Images
The Duke and Duchess of Cambridge, along with Prince George, have arrived in Australia for the second part of their tour down under.
William and Kate left rain-soaked New Zealand and flew to sunny Sydney for a 10-day visit.
They will travel across the country visiting famous sites, honouring Australia's war dead and recognising the achievements of individuals.
To start off with, the royal couple spent time meeting well wishers at the famous Sydney Opera House.
Prince William even talked about what Prince George's first words might be, suggesting that it could be 'koala' after the Australian animal.