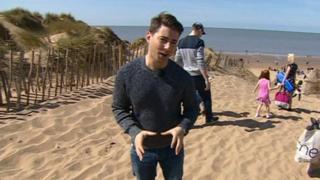 Ricky heads to the beach
A record number of beaches in the UK have 'excellent' water quality because of last summer's dry weather, according to the Marine Conservation Society.
Researchers said the lack of rain caused less pollution to filter down from towns and cities to the coasts.
In its annual Good Beach Guide, the Marine Conservation Society says 538 of 734 UK beaches tested between May and September 2013 reached the top standard for water quality.
That's 135 more than the previous year.
And only 14 beaches tested failed to reach minimum water quality standards, compared with 42 the year before.
Watch more Newsround videos