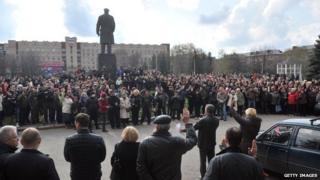 Getty Images
American leader Barack Obama has phoned Russian president Vladimir Putin to urge him to help stop protesters in eastern Ukraine.
Pro-Russian groups have taken over more government buildings, despite a warning of military action from Ukraine.
Putin says Russia hasn't been interfering.
Protests by people who want Ukraine to stay as one have also taken place.
A crisis meeting between Ukraine, Russia and the West is due to take place on Thursday.