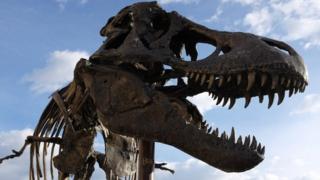 How to prep a dinosaur for a road trip
One of the most complete T-Rex skeletons ever found is being moved 2,000 miles across America - and the road trip is a tricky task.
It's being transported from Montana to Washington DC, where hundreds of millions of people will eventually be able to view it.
Inside a museum basement in Montana, a small team of scientists have been preparing the dinosaur remains for the tricky journey.
Bones have been examined, photographed, checked off lists and carefully packed in 16 wooded crates.
Watch the clip and see BBC reporter Jane O'Brien showing us how it's done...
Watch more Newsround videos