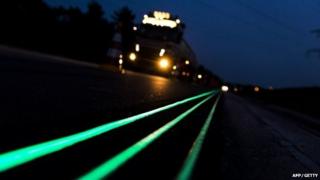 AFP/Getty
Glow in the dark road markings have been unveiled on a highway in the Netherlands.
The paint contains a special "photo-luminising" powder that charges up in the daytime and slowly releases a green glow at night.
Once the paint has absorbed daylight it can glow for up to eight hours in the dark.
It's being tried out as an alternative to having streetlights.
It is the first time "glowing lines" technology has been tried out on the road.
The technology is being tested with an official launch due later in April.