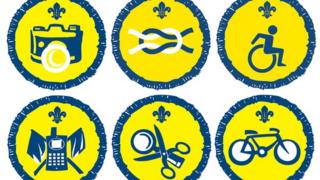 The Scout Association
The Scouting Association are creating 17 new badges - and they're a bit different from building a camp fire or putting up a tent.
Instead the new badges will reward skills like sending an email, posting a photo on the internet or working out how accessible a building is for someone with a disability.
The new badges like 'media relations', 'photography" and 'communicator' will be spread across all age groups - but 10 are for the younger Beavers.
The Scouting Association think the new badges reward skills young people need today.
So we want to know - what badges would you like to introduce? Whether for the Scouts, the Guides, the Cubs, the Brownies or the Beavers - what skills should you get a badge for?
Your comments
I think they should make an internet safety badge because that can help other people as well as learning new skills.
Amy, Basingstoke, England
I think you should get a badge for travelling out of the country, and visiting foreign countries.
Andrea, Surrey, England
I would like to introduce a bravery badge for trying something you're scared of or trying a food you hate.
Dan, Redhill, England
I would introduce a roller-skating badge as it is very fun and a good sport.
Alice, Redhill, England
I would create a badge for friendship, because it is important to have good friends to put a smile on your face everyday.
Curtis, Pennington, England
The fashion badge, you can only get the badge if you can design and create clothes.
Kieran, Poole, England
I think there should be a "cultures" badge, so people will learn about different life styles from around the planet.
Valentina, Potters Bar, England
I would introduce a charity badge to show that you have helped a charity such as British heart foundation or cancer research, etc.
Mohammad, Maidstone, Kent
I think there should be a badge on food tasting because you can try different foods from around the world
Kira, Ealing, England
I think you should get a badge for learning a new talent and expressing yourself
Nabhan, London