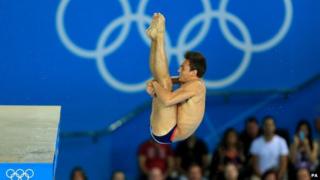 PA
You may recognise him from diving in the Olympics, or starring in television shows like Splash and Goes Global.
Now Tom Daley is taking on a new challenge as he starts his very own diving school.
Team Newsround is going to visit him TODAY and we want your questions!
Do you want some diving tips, to find out more about what he's up to, or just to hear what makes him tick?
Get in touch and let us know!
This page is now closed.
You must ask your parent, teacher or guardian for permission before you send us a comment.
We may show your comment on this page or in our bulletins on the CBBC channel. We'll show your first name and which town you're from - but we won't use your details for anything else.