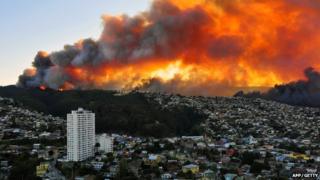 AFP/Getty
A large forest fire has destroyed more than 150 homes in the Chilean port city of Valparaiso, forcing thousands of people to evacuate their homes.
People have been moved away from the city to escape the flames, which have been fanned by strong winds coming in from the Pacific.
President Michelle Bachelet put the army in charge of the evacuation after declaring the city a disaster zone.
Four people are reported to have died in the fire and many more injured after breathing in smoke.
If you're upset by anything you read in the news, take a look at our guide.