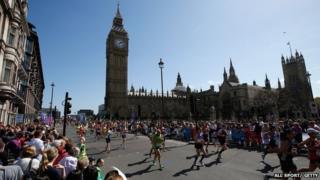 ALL SPORT/ Getty
Runners from around the world are donning their trainers and getting set to go 26.2 miles for the London Marathon 2014.
35,999 people are taking part in the mission, including Olympian Mo Farah.
The majority of those taking part will be raising money for their chosen charity.
We asked for your messages of support!
Your Comments:
"Good Luck Victoria! Run like the wind!"
Sophie, Southend on Sea, England
"Good luck to Lawrence running for MS charity!"
MacArthur family, Derbyshire, England
"Dani - 53777 - Keep up the great work you are doing in your first Marathon. We love you and are all very proud of you, love Mum, Dad and Owen xxxx"
Owen, Salisbury, England
"May everyone be able to finish the marathon and achieve the time targets set for themselves. Sending a big cheer to all the participants and especially to my three friends participating today - go go Bhago!"
Ashish, Borehamwood, England
"Good luck to my PE teacher Mr Davis. Everyone a school is cheering for you. Just think how proud your family must be of you doing the London Marathon again."
Chelsea, Rugby, England
"Well done first timer Rayford, running for the navy serving on HMS Illustrious and dedicating this run to Craig."
Robin, Manchester, England
"Good luck to my local milkman who is doing the marathon today!"
Katie, Shropshire, England
"Good luck to everyone in the Marathon, especially my Teacher Mrs Gipson who's running this morning."
Jamie-Leigh, Swansea, Wales
"Go , go ,go! Come on people, think about the money you're raising. Have fun and try your hardest"
Ihan, London, England
"My older brother Mitch is taking part so I would just like to say: Hope you do well, don't give up keep going, I believe in you!"
Casey, Bucks, England
"Sarah and Tony, I hope you have raised lots of money for children with cancer UK. Good luck, I think you're amazing!"
Niamh, Driffield, Ireland
"Shout out to Dorthy, my best friend, who is running in the mini marathon. I believe she can win!"
Stella, London, England
"Good luck to everyone who's competing in the marathon today! I'd like to say a big good luck to John (my gymnastic teacher) who is competing today."
Lauren, North Wales
"I think you should try your best and not think about the finish line. Think about how long you're doing it and tell yourself that it is a real achievement!"
Katie, UK
"My brother is doing this and I am going to support him!"
Khadija, London, England
"Don't give up. Keep up the great work you're doing for our world."
Maciek, London, England
"Good luck to everyone who is taking part, and if you don't come first, just remember your doing it for a good cause."
Scarlett, Kilmarnock, Scotland