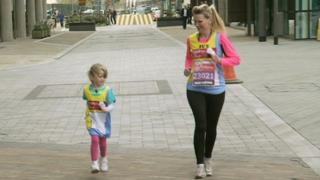 Six year old to complete unusual marathon
Thousands of people from all over the country are getting ready to take on London's Marathon, including six year-old Holly McHugh!
Holly was determined to support her Mum, whose running in the marathon, but because she's too young to take part yet she's spent the past few months chalking up the miles so she can complete the distance.
BBC Sports Mike Bushell caught up with her... well, just about!