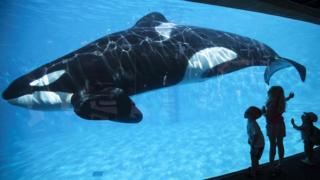 Kids call for SeaWorld killer whale ban
A group of school girls have been involved in a campaign to stop killer whales being used in performances at their local SeaWorld in San Diego, in America.
More than 1 million people have signed a petition backing a ban on using killer whales in entertainment shows at the SeaWorld park.
People that work with the mammals say they help with vital research.
Law makers in California have delayed a decision on any ban until they know the full impact of keeping whales in captivity.
Watch Ayshah's report for more information.
Watch more Newsround videos