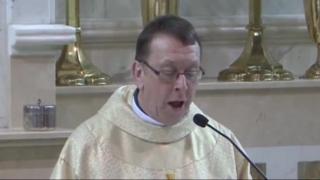 Pitch-perfect priest breaks into song
A Priest in Ireland has surprised a bride and groom at their wedding - by breaking into song.
Father Ray Kelly from Oldcastle, County Meath, started singing his pitch-perfect version of Leonard Cohen's Hallelujah, after the wedding band finished playing.
The bride and groom had no idea that he was going to sing. The lyrics were changed especially for the newlyweds, starting with "We join together here today, to help two people on their way."
Watch the brilliant performance above.
Watch more Newsround videos