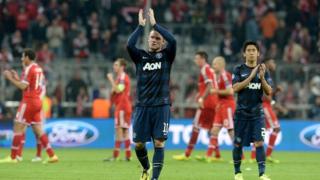 PA
Manchester United have been the best team in the country for almost 20 years - but not at the moment.
They've got millions of fans around the world, who've grown up supporting one of the most famous and successful teams in Europe.
But now, according to the Premier League table, United are the 7th best team in England - and probably won't be in the Champions League next season.
So will you still support Manchester United?
If you don't support Manchester United - do you think people should switch teams, or stick with one?
In the past, the most successful team of the time usually has the most fans - so when Liverpool dominated in the 1970s and 1980s lots of people supported them.
So will you be switching teams? Will you follow Man City instead? Maybe Chelsea or Liverpool? Or will you stick with United - and why?
Your comments
I have been a Man United fan all my life and will forever be a Man United fan. I am what you would call a true supporter. Sir Alex Ferguson has managed to keep Man U an amazing team but when David Moyes came, everything fell part.
Amy, London, UK
I think people should stick with Manchester United, if you support them because they will get better, eventually. It is not right to quit your team especially when you have been supporting them for a long time.
Laura, Accrington Lancashire
I will not stick with Man United because David Moyes as a manager is not working. He needs replacing.
Sarah, Manchester, England
I have always supported Liverpool and now they are top of the league! But if I was a Man U supporter now, I would still be supporting them because you have to be loyal to your team.
Maryam, London
I am going to stick with Manchester United because if they are 'not as good' as they used to be, they'll need supportive fans to help keep them on their toes.
Casey, Aylesbury, England
I am not sticking with Man United because they are not performing well
Hashil, London
I think people should stick with Manchester United because if everyone swapped to support other teams Manchester United will end up with no supporters and then just give up.
Amy, Hertfordshire
I don't support Man U, because I support Saints. But you shouldn't change your team just because they aren't winning.
Lyra, Southampton, England
I will still support man u because they have a good team and i still think they can win some cups
Abdi, London
I am a Manchester United supporter and I always have been! When your team plays maybe not so well you can't just leave them when another team is better. I am a MUFC supporter for life!
Maryam, Ilford, Essex
In my opinion lots of 'loyal' fans aren't really loyal at all and chop and change between different clubs, depending on their success. I think you should stick to a team no matter how well they are doing.
Rachel, Gosport, UK
I am a Liverpool fan and I have supported them since I was two and I still supported them when they came 8th and 7th so I think if you support Man U you should stick with them.
Samarth, Liverpool
I am an Everton fan and seeing Man United do so badly makes me think 'why would you stay a fan'? David Moyes is the man to blame because he is so bad at managing a good club!
Callum, Liverpool, England
Man U are a good team, I just think that David Moyes hasn't found his feet yet. For those Man U supporters out there I suggest you stick with them as they need all the support they can get.
Thanisha. London, England
I have always stuck up for Manchester United. Even if they are not the best, they must be having a hard time this year but as their fan, I know that they will improve!
Dana. London, England
I'm personally not a United supporter but if you are I hope you have a lot of patience because Liverpool used to be a top team like United and they haven't won the league in over 20 years and it may be that long for United.
Alex, Hertfordshire
I'm a Man U fan and I think we, as the supporters should give David Moyes some time to settle, even Sir Alex Ferguson didn't do that well in his first year in charge. So United fans should stop glory hunting and stay loyal.
Rafe, Manchester, England