The Speaker of the House of Commons has told Newsround there's "room for improvement" in the way Prime Minister's Questions are done.
It comes after Prime Minister David Cameron and Labour leader Ed Miliband made the news last week for using the insults "muppet" and "dunce".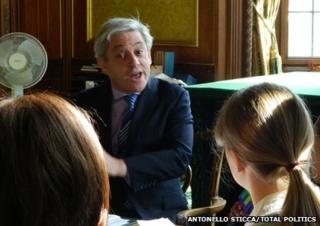 Antonello Sticca/Total Politics
We received lots of comments from you guys telling us how unhappy you were with their behaviour.
Speaker John Bercow is in charge of keeping MPs in order. He told Newsround viewers Stella and Muhannad: "I think there's a lot of room for improvement in the way that we go about this particular session."
He continued: "I would hope that the prime minister and the leader of the opposition would be willing to take note of, and show some respect for, the views of young people across the country."