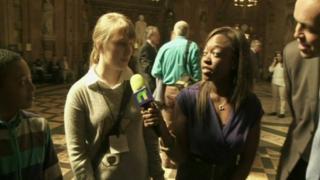 Ayshah in the House of Commons
Ayshah has spent the day at the House of Commons with two Newsround viewers - Stella and Mohannad.
They visited Parliament to find out for themselves what it's like to be in the middle of a big debate.
They went behind the scenes of Prime Ministers Questions (PMQs) - when MPs get to ask questions of David Cameron.
We sent team Newsround to the House of Commons after you sent us loads of comments following a debate in PMQs last week.
You thought it was childish when the leader of the opposition Ed Miliband called the Prime Minister a dunce-meaning stupid, and prime minister David Cameron called Ed Miliband a muppet.
Watch Ayshah's report to see what happened when Stella and Mohannad met MPs after this weeks PMQs.
And don't miss Newsround at 07:40 tomorrow morning to see a special report from Stella and Mohannad on their experience.
Watch more Newsround videos