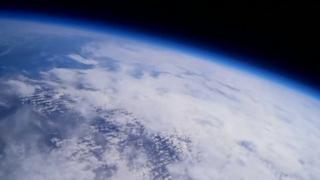 Kids send balloon to 'edge of space'
This clip shows the amazing footage captured when pupils from a school in Leighton Buzzard made a weather balloon and successfully sent it to the 'edge of space'.
Around 20 children from the Cedars Upper engineering club along with teacher Paul Simmonds, made the weather balloon.
The project started as a way to get children more excited and involved in engineering.
The balloon rose about 23 miles up into the air, before popping - when a parachute safely brought the camera attached back to Earth.
Teacher Paul Simmonds said: "We've achieved what we wanted to do and got some awesome pictures rather than breaking any new scientific ground.
"The pupils who took part were overwhelmed by the success of the project and I'm now working on a film to show to the rest of the school and inspire them - and hopefully others as well."
Watch more Newsround videos