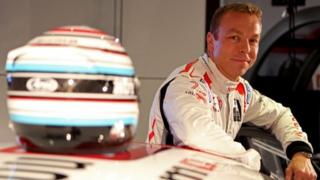 Sir Chris Hoy turns motor racer
Six-time Olympic cycling champion Sir Chris Hoy has swapped his bike wheels for some motorised ones - he's taken up motor racing.
He's just signed a deal with Nissan with the hope of competing in the world famous Le Mans event in 2016, a gruelling 24-hour race in France.
But he's already been involved in track races this year and is now looking forward to competing in this season's British GT Championship.
Sir Hoy said: "It's been a dream for a long time that I could get involved in motorsport. I think just having some competitive outlet now that I've retired from racing bikes - it's great."
Watch more Newsround videos