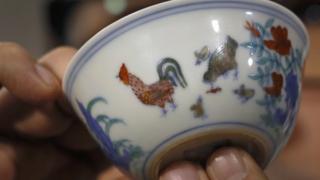 The cup that cost £22 million
It might not look much, but this cup has just been sold for £22 million!
The small cup, which is over 500 years old, is incredibly rare and sold at auction in Hong Kong.
Decorated with a rooster, hens and chicks, the cup dates back to the famous ming-era of Chinese history.
It breaks the record for the most expensive Chinese porcelain ever sold - the previous record was a vase that sold for £19 million in 2010.
Watch more Newsround videos