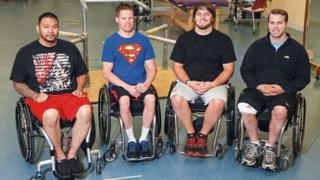 University of Louisville
Four paralysed men in America have been able to move their legs again after special electrical sensors were used to bring about movement.
Andrew, Dustin, Kent and Rob were able to scrunch their toes, and move their ankles and knees - though they're not yet able to walk on their own.
It's a breakthrough by researchers and experts say it could in the future become a treatment for spinal injury.
But how have electrical pulses been able to move parts of the men's legs?
What does it mean to be paralysed?
People who are paralysed can't move the body parts that are affected because messages aren't getting through to and from the brain.
When a person's legs are paralysed, think of it like this - their spinal cord acts like a high-speed rail line carrying electrical messages from the brain to the rest of the body. But if there is any damage to the track, then the message will not get through and people with spinal cord injuries can lose all movement and sensation below the injury.
How does electrical stimulation work?
Does electrical stimulation hurt?
Doctor Jack Lewis explains if the electrical stimulation would hurt or not.