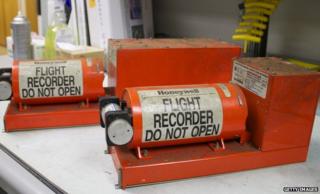 Getty Images
The search continues for debris that may have come from a Malaysia Airlines plane that went missing almost a month ago.
Investigators are concentrating on an area in the southern Indian Ocean, about fifteen hundred miles from Australia.
In particular, investigators are looking for the plane's 'black box' which could help piece together what happened to the plane before it went missing.
What is a 'black box'?
It is extremely rare is for a plane to go missing - but when it does, something called a 'black box' on the plane records what has happened to it.
Each plane needs to have a cockpit voice recorder and a flight data recorder. It is these two items of equipment that we commonly refer to a 'black box.'
While they do nothing to help the plane when it is in the air, both recorders are vitally important should the plane fail to reach its destination, as they help investigators find out what happened.
The cockpit voice recorder records what the crew says and monitors any sounds that occur within the cockpit. Trained investigators can then listen to these noises and listen out for any sounds which may give vital clues as to what happened.
The flight data recorder records the different functions of a plane all at once, such as the time, altitude, airspeed and direction the plane is heading.
The data stored on the recorders help investigators generate computer video reconstructions of a flight, so that they can visualise how a plane was handling shortly before it came down.
What does a black box look like?
A black box isn't actually black - it's bright orange which makes it easier to spot when searching for it.
How do you search for a black box?
To help locate the cockpit voice recorder and a flight data recorder each recorder has a device fitted to it known as an underwater locator beacon (ULB).
The device is activated as soon as the recorder comes into contact with water and it can transmit from a depth as deep as 4,200 meters.
How do you recover a black box?
Recovering a black box can be really difficult, especially when you don't really know where the plane came down.
Teams use specialist equipment to listen to 'pings' - noises given off by the black boxes which help investigators find where the box is and draw up an area where the box might be.