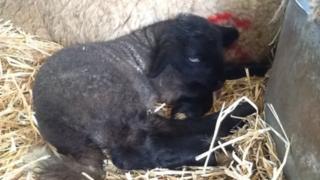 Ann Enticott
A lamb has been born in Wellington, Somerset, weighing in at a whopping 22.5 pounds - and has been called Goliath because of his size.
This huge lamb which was born last Thursday is one of the biggest lambs in the world.
It weighs three times the weight of a regular baby lamb.
Goliath missed breaking the world record by only 1.5 pounds, with the holder of the title being born in Lancashire in May weighing 24 pounds.
Farmer David Enticott who helped with the birth said: "It was a real surprise, I knew it was going to be big, as soon as he arrived but not this big."