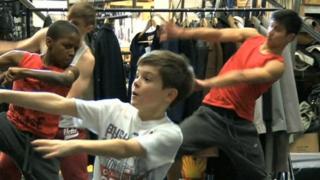 School boys star in top dance show
Dance-loving boys across the UK have been given the opportunity to star in a new touring stage version of Lord of the Flies.
Local boys from each city have been chosen to dance alongside professional artists.
Matthew Bourne, one of the world's top choreographers, is behind the project. He wants to get more boys into dance.
He said: "I understand sometimes how difficult it is for boys to get into dance. I think dance is for everyone. Dance is as much for boys as it is for girls.
"If you do feel like the only boy interested in your school it can be difficult... This project hopes to find those guys and give them a chance to come and find like-minded young people to work with."
Lord of the Flies has just finished its first run of performances in Salford, Greater Manchester.
Watch Nel's report for more.
Watch more Newsround videos