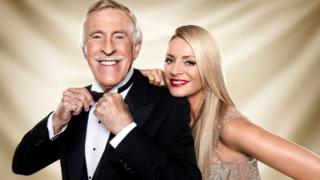 Bruce Forsyth is stepping down as presenter of BBC1's Strictly Come Dancing.
He said it was the "right time" after a decade fronting the hit TV show.
Strictly Come Dancing will return in the autumn, but who will replace him?
Anton du Beke has been tipped as a popular choice by betting shops as has chat show host Graham Norton.
Vernon Kay and John Barrowman have also been linked to the top job.
Your comments
I think it should be Claudia Winkleman because she's not a stranger to the show and she's really funny.
Ella, London, England
I think Anton du Beke should replace Sir Bruce Forsyth because he is a great presenter and knows about the show because he has been in the show.
Amelia, Grimsby, England
I think that Vernon Kay would be good as the new presenter! He will bring a new lease of life to the show, but I will miss Bruce!
Jessie, Andover, England
I think it should be a winner from a previous year, because they know what it's like taking part and have lots of experience.
Amy, Rugby, England
Me and my sister think David Wallliams should be the presenter on Strictly because he's funny and would make the show exciting and make more people watch it.
Skye, Lincolnshire, England
I think John Barrowman would make a great host because he can sing and dance really well.
Lucy, Derby, England
I think Davina should be the new presenter for Strictly. I think she'd be great!
Caleb, Northampton, England
Will.i.am. He is funny, cool and collaborative. He would be a great host!
Connor, Essex
I wouldn't really mind whether it is Anton or John Barrowman. What about an ex-Strictly champion to present, though? They would know how much work it takes to win.
Patrick, Yorkshire
I think Justin from CBeebies.
Anna Rose, Maidenhead, England
I think Justin Timberlake should be a presenter because he's got moves.
Melissa-May, Preston, England
Michael McIntyre would be awesome and we would all get a laugh will the show goes on.
Chanice, Glasgow, Scotland
I think Vernon Kay should get the job as he and Tess are husband and wife and should be very funny together!
Ross, Glasgow, Scotland
John Barrowman all the way, he has a great dancing background, is a performer too and would make a fantastic replacement for Sir Bruce.
Fleur, Reading
I think it should be a boy, because when they introduce the show Tess needs someone to dance with. So it could be Chris Evans, Graham Norton or Chris Eakin.
Alice, Tadworth, England
I think (and this may surprise some people) David Beckham. He's in good shape and people could teach him to dance!
Zia, Scunthorpe
I think that we should have Bruno. I think he would be great although everyone will miss Brucey! We will miss you Brucey. Strictly will never be the same.
Emily, Northampton, England
If you send us a comment, it may be published on the Newsround website, and some comments may be used in our TV bulletins. We'll use your first name and your home town to show that it's your comment; your personal details won't be used for anything else.