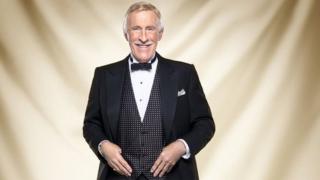 Sir Bruce Forsyth is leaving Strictly Come Dancing after hosting the show for 10 years.
He has presented Strictly since the first series in 2006 and has been an entertainer for over 40 years.
If you're a fan of the presenter, don't worry - he'll still be involved in special one-off Strictly episodes and theatre shows.
Sir Bruce has said that at the age of 86, hosting the show every week was too much.
He said: "After 10 wonderful years and 11 series, I believe it is now the right time to step down from the rigours of presenting the Strictly live shows. I am very proud of what the show has achieved and confident it will entertain the nation for many years to come. I am also delighted that by presenting the Christmas and Children in Need shows I will continue to have a strong association with Strictly.
Charlotte Moore, Controller, BBC One, says: "Sir Bruce Forsyth is one of the great showbiz legends of our time and Strictly's success is due in vast amounts to him. I am so pleased he will continue to be part of the Strictly family and promise viewers that we haven't seen the last of him on BBC One."