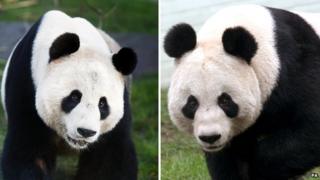 PA
Edinburgh Zoo's two giant pandas could be ready to mate within the next week or two, according to their keepers.
Tian Tian and Yang Guang arrived in Scotland in 2011 on loan from China, and everyone got very excited at the possibility of baby pandas on the way.
After a lot of waiting around, there was nothing - pandas are famous for not being good at breeding.
But the zoo is hopeful that there'll be more success this time around.