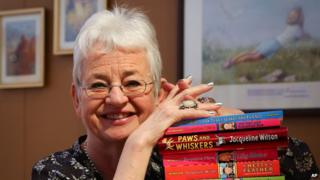 AP
She's the author who inspired CBBC's Tracy Beaker and the Dumping Ground and later this year Jacqueline Wilson will release her 100th book.
It's called Opal Plumstead and tells the story of a spirited Edwardian girl who is forced to leave school at 14 to work in a sweet factory.
The book is set within the backdrop of the First World War and also features the Suffragette movement - a group of women who campaigned for equal rights as men during the 1800's and 1900's.
Tomorrow an exhibition opens at the V and A Museum of Childhood in London to celebrate the former children's laureate.