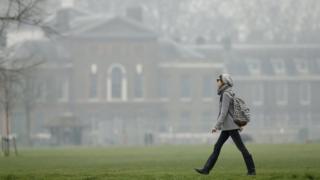 Reuters
High levels of air pollution are still affecting parts of the UK.
In some parts of London and the south east of England pollution levels are expected to be "very high" according to the part of the government responsible for the environment.
It's been reported that some schools aren't letting kids outside to play because of air pollution.
Its mostly effective when my mum and I go in the car to school because the smog gets really thick and we can barely see.
Olivia, Bramley, England
The smog is very bad for me and my friends. The school is also covered in smog and so is my mummy's car.
Oliver, Cambridge, England