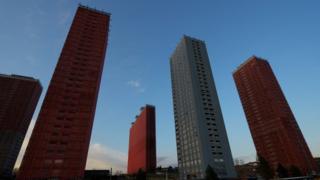 Glasgow 2014
Five high rise flats in Glasgow will be demolished during the opening ceremony of the Commonwealth Games 2014.
During the ceremony on 23 July 2014 the five set of flats, will be brought down.
At the Celtic Park ceremony the demolition will be broadcast on a 100 foot television screen in front of a huge audience.
The Red Road flats have been an iconic sight in Glasgow for almost 50 years.
Some of the other blocks on the estate were demolished in 2012 and 2013.
Commonwealth Games Minister Shona Robison said: "This spectacular start to the games within the opening ceremony will send a strong signal about the power of the Commonwealth Games.
"For many people, these games are more than sport, they are a chance for regeneration, renewal and having better places to live and work."
David Zolkwer, head of ceremonies and artistic director for Glasgow 2014, said the demolition would be "a bold and confident statement".
"By sharing the blow down with the rest of the world, I hope it will be seen as the noble, respectful and celebratory send-off that it is intended to be," he said.