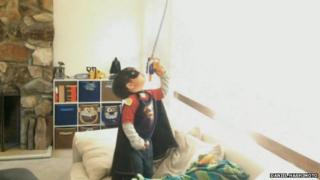 Animator turns son into superhero
A dad has turned his son into a superhero thanks to some pretty brilliant special effects.
Three-year-old James from Los Angeles in America has been able to disappear down puddles, jump onto his ceiling and even jump across red hot lava.
It's all thanks to his dad Daniel's skills with a computer.
But then James' dad does work for world famous animation company DreamWorks, which made films like Shrek, Kung-Fu Panda and The Croods.
Watch more Newsround videos