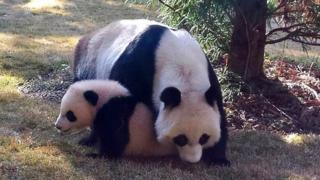 Panda playtime for Bao Bao
Bao Bao the giant panda cub, who lives at the Smithsonian National Zoo in America, has ventured outside for the first time.
She spent around two hours outside with her Mum Mei Xiang and tried out her climbing skills and sat on the grass with a piece of bamboo.
Zoo keepers also fitted barriers on trees to prevent the cub from climbing too high and put out bales of hay to cushion any falls.
Watch more Newsround videos