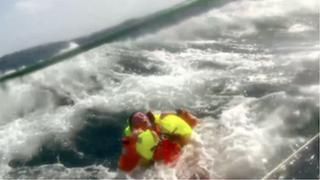 Amazing sailor ocean rescue
Video footage of an ocean rescue operation has been released after a sailor fell overboard while competing in the World Yacht Race.
Andrew Taylor was competing with the Derry-Londonderry crew as part of the World Yacht Race when he fell off the boat while changing a sail.
After one and a half hours in the water he was pulled to safety. He is now being treated by paramedics.
Watch Ayshah's report for full details.
Watch more Newsround videos