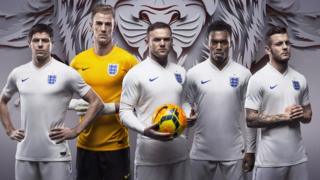 Nike
The Football Association has been criticised after new England replica shirts were put on sale for up to £90.
The kit was unveiled yesterday and attracted a lot of attention for it's all-white home shirt and matching white shorts and socks.
But many people think the kit is too expensive.
The FA say they're not involved in pricing and leave that to makers Nike.
Criticism
To buy the exact same shirt as England will wear at Brazil 2014 will cost £90 for adults.
Shadow Sports Minister Clive Efford said the pricing strategy was "disappointing" while Queens Park Rangers midfielder Joey Barton called it "appalling" and "taking the mickey".
A cheaper stadium version is available for adults at £60 and £42 for children, but won't be exactly the same as the one England will wear.
In a statement, the Football Association said: "The FA is a not-for-profit organisation that puts £100m back into the game every year.
"It is through relationships with partners such as Nike that we are able to maintain that level of investment in football.
"The FA's policy is to avoid any involvement with how its partners/licensees set their prices, so as to avoid any risk of or implications of price fixing."
We want to know what you think - Do you think footy kits are too expensive?
Does the price put your parents off buying them?
Or do you think the price is worth it to support your team?
How much do you have to pay for your club kit?
Your comments
I am not a footy player myself but £90 for a football kit that claims will make you better at the sport- that's a total no-no from me! It should be cheaper, therefore more fans could afford it would make the kit much more successful
Dana , London
I think it's too expensive, because it is just a football kit and there are people in the world who don't even have clothes!
Tara, Fife, Scotland
It looks very nice, but it is too expensive and it won't sell as much as last season because we will get knocked out in the group stages, so it will be a waste of money!
Ben, Scunthorpe, England
Our class like the new football shirts for the World Cup and we would like to buy them to support England. However, in our group of 7 students, only 1 student thought that their parent would buy it. Then we thought if the outfit was cheaper, say £20, 4 of the remaining 6 thought that their parents might buy it for them.
Exeter House School, Salisbury, Wiltshire
Yes it is expensive, but look how good it looks!
Connor, Barry, Wales
I think that football kits are way too expensive. I tried to buy one once and it was so much money that I couldn't afford to get one. I do not have the extra £15 pound to pay for a kit, I think by upping the price they are just going to lose money.
Daniel, Llandudno, North Wales
It is disgusting to charge so much for a football shirt, and just as disgusting to pay players such massive wages when they do not deserve it.
Phoebe, Leeds, England
I think football kits are way too expensive, because it's not worth that much.
Felix, Saffron Walden, England
I think football kits cost too much, because in the world there are people who don't have clothes and we have to pay £90. It's ridiculous!
Morgan, Wigan, England
My club is Chelsea, I do buy the kit every year but it's around £40 for a top and then if you want your name or a players name and a number its a extra £15. It is a lot of money but I'm a true fan of Chelsea and I will buy the kit.
Joe, Dorset, England
I don't have a football kit because it costs to much!
Zakaria, London, England
It is too expensive, they are just footy kits. The kits should be way cheaper than what they are.
Jamie, Southampton, England