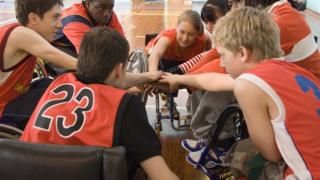 A big disability charity has told Newsround it's often hard for kids with a disability to get involved with out of school clubs.
Scope say more needs to be done to make clubs more welcoming for disabled kids.
We want to know your experiences - if you have a disability do you find it hard or easy to join a club?
Maybe you have brother, sister or friend with a disability? Do they get involved with out of school clubs or do they find it difficult?
Your Comments
My cousin Jessica who is now 5 years old was born with brain damage and finds it hard to see and walk. Her mum and dad care for her a lot, and her school do have a lot of stuff she can join, but I think she is lucky and I also think that their definitely should be more clubs for disabled kids.
Emily, Kent
My brother is 21 and has a disability. In this area there's only one club he can go to and it's really expensive. I think more needs to be done!
Katie, Malvern
My friend is in a wheelchair and the music club we go to is really good in making sure she can learn to play piano like other students. Plus lots of other disabled kids and adults go there too, who all love it!
Stephanie, Norwich