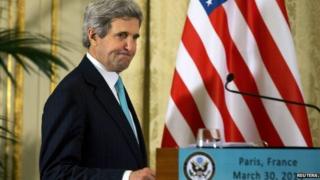 Reuters
There has been no breakthrough in talks between America and Russia on the crisis in Ukraine, the US has announced.
American Secretary of State John Kerry held four hours of discussions with Russia's Foreign Minister Sergei Lavrov but said afterwards the two countries had so far failed to agree on a solution.
The US still consider Russia's takeover of Ukraine's Crimea region as illegal and are urging Russia to stop the build up of troops on Ukraine's border.
Find out more about What's happening in Ukraine by clicking here to see the Newsround guide.