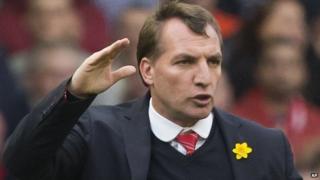 AP
Liverpool boss Brendan Rodgers says his side can cope with the pressure of being top of the Premier League with just six games left of the season.
The Reds replaced Chelsea in top spot after beating Spurs 4-0 at Anfield on Sunday and seeing Jose Mourinho's side lose to Crystal Palace on Saturday.
It means that if Liverpool win all of their remaining games, including crucial games with Chelsea and Man City, they will be league champions for the first time since 1990.
Manager Rodgers said: "There are still a lot of points to play for and there will be points dropped by all teams before the end of the season.
"We don't feel the pressure and we're very confident with how we play."
Race for fourth
In Sunday's other fame Everton kept up their hopes of overtaking Arsenal for the fourth Champions League place by beating Fulham 3-1.
The win means Roberto Martinez's side are four points behind the Gunners with a game in hand. The two teams play each other next week.
Fulham's defeat means they're five points from safety at the bottom of the Premier League.