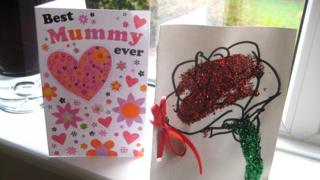 It's Mother's Day, when many of you will be helping your mum to put her feet up and perhaps enjoy some pampering.
We asked you to tell us how you're spending the day and if you've planned any special surprises.
Your comments
Me and my mom are going to have a girls night out, we are planning to go shopping and making cookies at home and obviously me and my sister Rochelle have decorated the whole house! I love my mom!
Marie-Claire, London, England
We are going to DISNEYLAND on holiday for Mother's Day!
Rhiannon, UK
I'm going out for dinner and sharing my birthday with Mother's Day. I got her a card that was from me and the dog too.
Jade, Cleveland
I am having a Mother's Day dinner with my mum and granny and my brother and sister.
Isaac, Pembrokeshire, Wales
We saved our pocket money and got our mum a box of chocolates and a pamper kit. We took her out for breakfast and we are helping her tidy the house and we promised that we wouldn't fall out. We love you mum so much. xxxx
Lauren, Hannah and Abigail, Derby, England
I've made a really preety homemade card with lots of jokes and also we took a family picture and stuck t on the card.Im going to make mum a realy really really fancy cake with lotsof sprinkles and whipped cream(YUM!!!).I've also bought mum a an expensive bracelet that says best mother xoxo.I hope she likes them!
Sam, Manchester, England
For Mother's Day I made my mum a small breakfast because she's had an operation.
Britanny, UK
I served my mum breakfast and she loved it and I bought her make up , chocolates and a handmade vase. I love my mum. xxx
Nafisa, Rochdale, England
I've made my Mum lots of bracelets that are all the same style but different colours I'm also getting her flowers and a home made card
Maisie, Manchester, England
I made a movie for my mum on the computer and we are going out for a meal!
Chiara, Solihull, England
I gave her a card which I secretly made yesterday, and me and my sisters made the breakfast for ourselves and our mum! :D
Farsya, Birmingham, England
I've bought chocolates, a pen and made a necklace and card. I'm going to make her lunch as well!
Clare, Dagenham, Essex
For Mother's Day I made my mum some earrings a card, a bag and a poem and my dad and I made her breakfast in bed and I played her some of my pieces that I am learning on the recorder.
Ariana, Barnet, England
We have rented a car and are going to spend the day at a castle. We might even have a special tea. I am very excited!
Silvia, Oxford, England
I'm having tea with my mum and my dad's mum, which is my nana. We opened my mum's presents this morning.
Eve, Chester, England
For Mother's Day I'm going to buy my mum chocolate, flowers, soap a card and seven more things that she likes. I will also not bother her today because I love my mum so much.
Jamilah, London, UK
I made my mum a homemade frame which we decorated. I also bought a pretty make up bag and filled it up with some make up. Also my grandma is coming over for lamb stew with rosemary dumplings!
Ruby, Wallington, UK
For Mother's Day I made a card for my mum and I bought her an owl keyring and chocolates. Then later we will go bowling and have lunch. Last we will go to my Nan's for cakes and a drink.
Athena, Bridgend, Wales
We are going cycling!
James, UK
Today I'm going to make my mum a full English breakfast, all by myself. My sister made my mum some presents at school and I made her some bath bombs and chocolate truffles. Then for dinner we are going to her favourite restaurant for a treat.
Shania, Germany
I love my mum - Happy Mother's Day. She is the best mum ever and I will never forget you. God will bless you mum.
Stephanie, London, England
I am going to do my homework and make lunch!
Amelie, Letchworth, England
On Mother's Day I make my mum breakfast and get her a present.
Tilly, Bedford, England