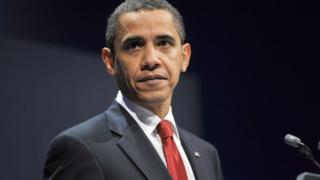 Putin and Obama discuss Ukraine plan
Russian leader Vladimir Putin has phoned US president Barack Obama to talk about ways to resolve the Ukraine crisis.
There's been a lot of unrest in Ukraine between people in the country who support closer ties to Russia and those who don't.
Russian forces recently took control of Crimea, in southern Ukraine.
In the hour-long phone call the two leaders discussed a US plan for a stop to Russia's military presence on the border with Ukraine, a withdrawal of troops in Crimea, and a move to protect the Russian speakers in the region.
Their foreign ministers will meet soon to discuss what to do next.
To find out more here's Newsround's guide to
Watch more Newsround videos