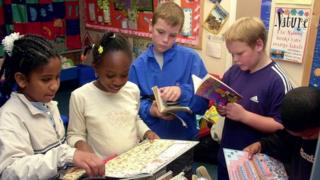 Footie ace Frank Lampard has teamed up with the Premier League and the National Literacy Trust to get more boys reading.
The National Literacy Trust say not enough kids are reading and that's why Frank has joined forces.
How do you get boys reading more?
Your comments
Girls can say that they are better than boys and challenge them to a readathon every day.
Taya, Swindon
I think to get more boys reading you should make more books about football.
Jama, England
I love getting stuck into a good book. It is like entering all different worlds. You never know what is going to happen. Reading makes your imagination grow.
Yara, England
I love reading! Not many of my friends read but my brother likes it too. I think more famous people need to come forward like Frank Lampard, because they do have a big influence on children.
Anna, Northern Ireland
My mum makes my twin brothers read more by getting them to read more funny books.
Jessica, London, England